Keeping the soil covered is one of the main principles of soil health (click here for more info. on the benefits of soil cover) and vital for saving precious moisture in our dry and often windy environment.   The 2022-23 Winter Cover Cropping Project is closed for applicants on September 30th, 2022. We are looking forward to partnering with cooperators to evaluating winter cover crops as a tool for soil building.
2022-23 Winter Cover Cropping Project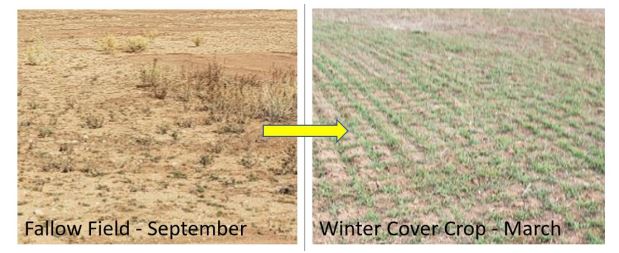 Project Background  Cover cropping with oats, especially in newly seeded alfalfa fields, is a common practice locally.  Taos SWCD, with support from NMDA's Healthy Soil Program, is testing additional cover crop options and seeding methods to determine benefits to soil health on impaired agricultural lands.  The use of winter cover crops, such as cereal rye, hairy vetch & triticale, may be a useful tool for improving soil conditions in water-limited situations.  Any Taos County producers with fallow, bare, or weed-dominated and water-limited agricultural fields should consider partnering with Taos SWCD on this project (application in attached PDF below).
ALSO in Soil Health…
SOIL HEALTH SCIENCE DAY WITH RAY – Friday, October 7th, 2022 – Click here to register!