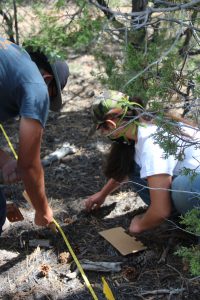 Temporary Fall 2020 Field Work Opportunities
Taos Soil and Water Conservation District, in partnership with Rocky Mountain Youth Corps,  is pleased to offer 6 educational work positions this fall for students or individuals who are interested in pursuing careers in field science and natural resource conservation.  All work will be conducted outside in a socially-distanced manner and masks will be required.
Student Forest Monitor (5 entry-level positions) and Monitoring Crew Supervisor (1 position) – Application letters are due by email or dropped off at the Taos SWCD office (220 Chamisa Road, Taos, NM 87571), by Thursday, September 3rd at 5:00 p.m. MST. Click the links below for a full description of these work opportunities.  Please contact David Gilroy at 770-88[nine]8 for more information.
Student Monitor Position: RioLuceroMonitoring_TSWCDJobDescription_Aug2020
Monitoring Crew Supervisor Position: RioLuceroMonitoringSupervisor_TSWCDJobDescription_Aug2020