Irrigation Water Conservation
Taos SWCD has a long history of assisting local acequia associations and parciantes with irrigation improvement projects. In fact, acequia projects account for approximately two-thirds of all assistance requests received by the District. Taos SWCD utilizes experienced staff and consultants as well as state of the art technology to enhance the design and inspection departments contained within its Acequia Construction Program. To learn more about cost-share programs available from Taos SWCD.
Click for Acequia Conservation Program information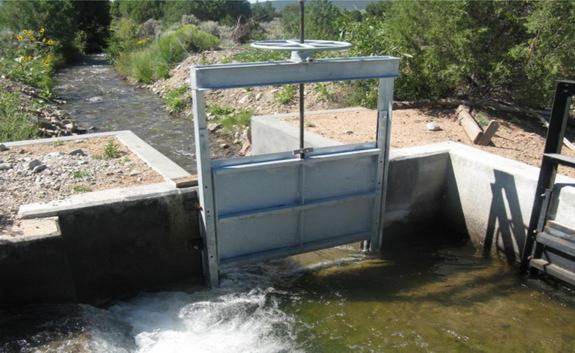 Acequia GIS
Taos Soil & Water Conservation District, working in cooperation with Taos Valley Acequia Association (TVAA) and professional engineering firms has developed an Acequia Geographic Information System (GIS) for central and northern Taos County. The purpose of this project is to help local acequias manage irrigated lands more effectively as well as to implement conservation programs efficiently. The GIS utilizes existing "on the ground" hydrographic survey information and converts it to electronic layers utilizing state of the art software. Initially, the 2004 project consisted of the Rio Pueblo de Taos hydrographic survey and 1998 aerial imagery. By 2005, the District had added the Rio Grande del Rancho and Rio Hondo hydrographic surveys as well as associated databases. In 2006, aerial imagery of Taos and adjacent areas, Questa and Penasco was obtained through cooperation with Kit Carson Electric. As of 2011, the northern areas of San Cristobal, La Lama, Questa, Cerro, Red River, Sunshine and parts of Costilla have been added to the system. During 2010-11, approximately $16,000 was spent on the northern Acequia GIS.